Posted by , Last modified by on 20 June 2013 11:39 AM
You can create an IVR by doing the following:

Log in using your Account ID: e.g. G12345 & the password sent to you by Gridare (which you can see from the Gridare Welcome Email)

Once logged in go to the Manage Phone System tab

Go to IVRs and click the drop down menu; Select Add IVR

Enter your desired name for the IVR and click on Add

Your IVR will now be created and open; ready for you to edit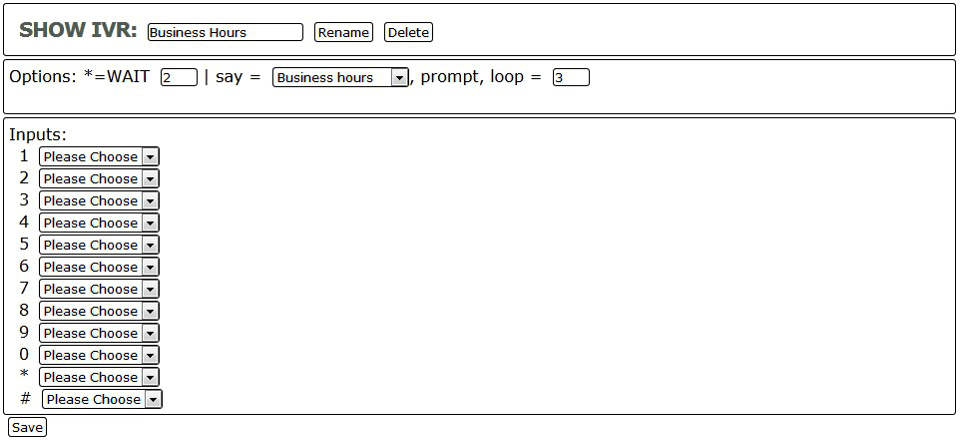 Once selected; enter the amount of time you'd like the system to wait before it starts playing your initial phrase by entering the amount of seconds in the box to the right of WAIT

In the box to the right "of Say ="; Please use the dropdown to select the phrase (that you have previously created) that will play at the beginning of the IVR

Select how many times you would like that opening phrase to play by entering a number in the box to the right of "Loop =" (e.g. entering 3 will play the phrase 3 times)

Under Inputs you can select from the drop down menus where you would like the call to go to. Options include; Menu, Transfer and Hangup

NOTE: Input is what you are telling the IVR how to respond if a caller presses any of the buttons mentioned such as transferring to a group or a further IVR.
INPUT FUNCTIONS:
Menu - allows you to choose which IVR you want to use
Transfer - routes the call to an assigned Group or Extension
Hangup - disconnects the call (no need to choose any Group or Extension from the drop down menu)
Once you're done setting up the Input click on Save at the bottom

RELATED LINKS (29 RESULTS): FAQ - Virtual PBX
REMINDER: You can also download the attached PDF version of this tutorial.
---